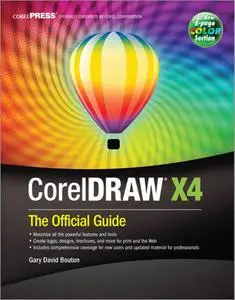 CorelDRAW® X4: The Official Guide
by Gary David Bouton
English | EPUB | 81.1 MB
The Only Corel-Authorized Guide to CorelDRAW X4Create fine art and commercial graphics with one powerful tool! CorelDRAW X4: The Official Guide shows you how to get a visual message across with impact and style; edit photos; build captivating layouts; and compose scenes in a clean, attention-getting style. Learn how to illustrate like the pros, justify and flow text around shapes, and truly understand digital color. You'll also discover how to create 3D objects, apply special effects, and integrate different media to build outstanding graphics. Packed with expert tips and techniques for creating professional-level art, this is your one-stop CorelDRAW X4 resource.
Create drawings that mimic traditional oils and acrylics using Artistic Media, Smudge, and Roughen brushes
Lay out complete page designs with layers, multi-page options, and preset page and label templates
Import and format text, flow text around illustrations, and add drop caps
Use CorelDRAW as a desktop publishing program
Import and edit digital photos, including camera RAW files, and incorporate them into your designs
Add special effects to your illustrations including dynamic lens effects and transparency
Create 3D objects with the Extrude tool
Includes an all-new 8-page full-color section