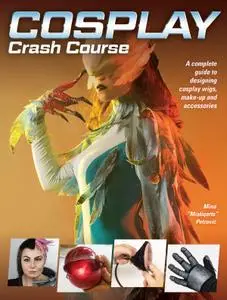 Cosplay Crash Course: A Complete Guide to Designing Cosplay Wigs, Makeup and Accessories by Mina Petrovic
English | June 18th, 2019 | ISBN: 1440354790 | 128 pages | EPUB | 170.25 MB
Cosplay lets you step out of your own skin and into someone else's shoes (or boots, or paws…). This beginner's guide helps you walk that walk with confidence in an awesome costume of your own creation.
True to the cosplay spirit of collaboration, Cosplay Crash Course shares favorite tricks and techniques from some of the community's most imaginative artists. Step by step, you'll learn how to turn ordinary fabrics, inexpensive toys, easy-to-manipulate thermoplastics, wigs and other humble materials into original costumes you'll wear with pride. Whether you're making fabulous feathers, metallic armor, wicked horns, lifelike claws or form-fitting boots, this book puts it all within your reach. You'll even learn awesome hair and makeup effects to complete the look.
Use this inside advice to fast-forward through years of trial and error; learn to select the best fabrics and adhesives and to make practical choices for comfort and wearability. Armed with the know-how in these pages and a spirit of adventure, who will you become?
Everything you need to dress your part!
• 25+ step-by-step projects for creating authentic-looking props, costumes and accessories
• Easy techniques and clever shortcuts from nine international cosplay artists
• How to manipulate wigs, extensions and your own hair to create unique and expressive looks
• Awesome makeup effects, from tattoos and zombie bites to tricks for making faces appear more feminine or masculine
• Bonus tips for striking a pose and snapping dynamic, in-character photos
Enjoy
My Blog
. No any convert or low quality!