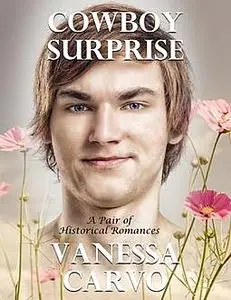 «Cowboy Surprise: A Pair of Historical Romances» by Vanessa Carvo
English | EPUB | 0.2 MB
Jake's Grace On The Road West, is about a Canadian Amish family's decision to move out West where they feel they will have more freedom to express themselves. Along the way and after they join up with a wagon train, the young man of the family–Jake–does indeed, find Grace. This is a gentle and sweet love story suitable for any age and it contains a few inspirational passages of scripture.
The Identical Twin Switch — A woman's twin sister becomes widowed so she arranges for her to go to Kansas with her, where she's to be married to a mail ordered husband. Unknowingly, they are roped into playing a game they've had long practice at when the one engaged woman's fiancé switches with his twin brother because the 'real' one had to stay on their ranch and build a new house for he and his soon to be bride.