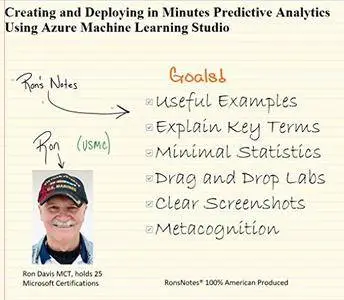 Creating and Deploying in Minutes Predictive Analytics Using Azure Machine Learning Studio by Ron Davis
English | 24 Jan. 2017 | ASIN: B01MSBAVG4 | 93 Pages | PDF (conv) | 3.85 MB
Using this RonsNotes and the free access version of Azure Machine Learning Studio you will explore the expanding world of predictive analytics and how, using a drag and drop interface, to make predictions about future events such as, "What will a competitor charge for a new car model?", or "Who are the best candidates for our mailers?". You will also familiarize yourself with many industry terms in this exploding field. In a few hours, you will learn how to make predictions that, in the not so distant past, took teams working for weeks. No statistical background required!
Then learn to use Excel to see how to make predictions based on the experiments you produced and show the results to your team! After the end of this RonsNotes you will have the skills to upload your own datasets to continue your learning.