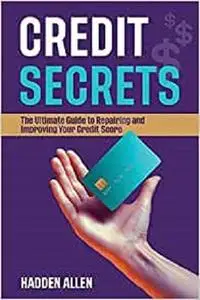 Credit Secrets: The Ultimate Guide to Repairing and Improving Your Credit Score by Hadden Allen
English | May 29, 2021 | ISBN: N/A | ASIN: B095PXDNTN | 107 pages | EPUB | 0.84 Mb
Do you have a bad credit score and wish to repair it? Are you looking for the best tips for improving your credit score? Maybe you just want to learn about the credit world?
Then you have come to the right place.
This book is the ultimate guide to credit scores. The quality of your credit score affects almost every aspect of your financial existence, from mortgage and loan approvals to anything as basic as a deal on a new house. A decent credit score will also get you the greatest introductory deals and reward credit cards with VIP benefits like event ticket presales, special activities, and even premium concierge service in certain situations.
Fortunately, a credit score is something that can be worked on and improved. This book is designed to do that. You will save a lot of money that would have instead been payed to firms and agencies.
This book includes information on:
What are credit scores and how they are calculated?
Differences between credit scores and credit reports
Types of credit scores
Importance of a good credit score
What affects a credit score?
How to improve your credit score?
How to smartly pay off debt?
How to repair a poor credit score?
Disputing reports with Section 609
And it even includes a bonus chapter on how to improve your financial position!
People think they need a degree to increase their credit score properly. With this book that won't be necessary.
Feel Free to contact me for book requests, informations or feedbacks.
Without You And Your Support We Can't Continue
Thanks For Buying Premium From My Links For Support