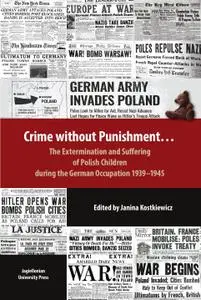 Crime Without Punishment: The Extermination and Suffering of Polish Children During the German Occupation, 1939–1945 by Janina Kostkiewicz
English | May 1st, 2021 | ISBN: 8323348065 | 274 pages | True PDF | 15.47 MB
This book is an exploration of the scope and methods used by Germany in its extermination and Germanization policy aimed at Polish children in the years 1939 to 1945. Children were sent to prisons and concentration camps, pseudomedical experiments were conducted on them, they were sent into forced labor, and planned mass abductions of them were conducted for the purpose of Germanization.
The German leadership remained firmly convinced that the crimes they committed on children would never see the light of day; they erased all traces of the children's origins, changing first and last names, and dates of birth. This extermination and Germanization of Polish children was part of a long-term plan to secure the ultimate end of annexing the Polish lands to Germany. By means of the Germanization and extermination of Polish children, an "age-old problem" was meant to be solved; it was to be a measure to prevent a future generation of Poles from striving to regain the pillaged lands of their fathers.
Enjoy
My Blog.
No any convert or low quality!