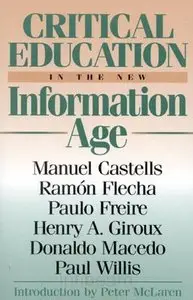 Critical Education in the New Information Age by Manuel Castells
Rowman & Littlefield Publishers, Inc. | 1999 | ISBN: 0847690105 | 184 pages | PDF | 11.1 MB
Essays by some of the world's leading educators provide a revolutionary portrait of new ideas and developments in education that can influence the possibility of social and political change. The authors take into account such diverse terrain as feminism, ecology, media, and individual liberty in their pursuit of new ideas that can inform the fundamental practice of education and promote a more humane civil society. The book consolidates recent thinking just as it reflects on emerging new lines of critical theory.
Contents:
Introduction: Traumatizing Capital: Oppositional Pedagogies in the Age of Consent 1
Peter McLaren
1 Flows, Networks, and Identities: A Critical Theory of the Informational Society 37
Manuel Castells
2 New Educational Inequalities 65
Ramón Flecha
3 Education and Community Involvement 83
Paulo Freiré
4 Border Youth, Difference, and Postmodern Education 93
Henry A. Giroux
5 Our Common Culture: A Poisonous Pedagogy 117
Donaldo Macedo
6 Labor Power, Culture, and the Cultural Commodity 139
Paul Willis
no mirrors please!