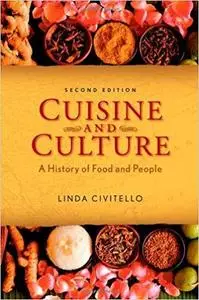 Cuisine and Culture: A History of Food and People by Linda Civitello
English | March 9, 2007 | ISBN: 0471741728 | 432 pages | PDF | 8.70 Mb
An illuminating account of how history shapes our diets-now revised and updated
Why did the ancient Romans believe cinnamon grew in swamps guarded by giant killer bats? How did the African cultures imported by slavery influence cooking in the American South? What does the 700-seat McDonald's in Beijing serve in the age of globalization? With the answers to these and many more such questions,
Cuisine and Culture, Second Edition
presents an engaging, informative, and witty narrative of the interactions among history, culture, and food.
From prehistory and the earliest societies around the Tigris and Euphrates Rivers to today's celebrity chefs,
Cuisine and Culture, Second Edition
presents a multicultural and multiethnic approach that draws connections between major historical events and how and why these events affected and defined the culinary traditions of different societies. Fully revised and updated, this Second Edition offers new and expanded features and coverage, including:
New Crossing Cultures sections providing brief sketches of foods and food customs moving between cultures
More holiday histories, food fables, and food chronologies
Discussions of food in the Byzantine, Portuguese, Turkish/Ottoman, and Austro-Hungarian empires
Greater coverage of the scientific genetic modification of food, from Mendel in the 19th century to the contemporary GM vs. organic food debate
Speculation on the future of food
And much more!
Complete with sample recipes and menus, as well as revealing photographs and illustrations,
Cuisine and Culture, Second Edition
is the essential survey history for students of food history.