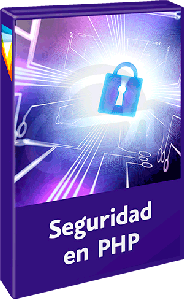 Seguridad en PHP
HDRips | MP4/AVC, ~167 kb/s | 1280x720 | Duration: 01:56:00 | Spanish: AAC, 128 kb/s (2 ch) | 333 MB
Genre: Development / Programming
Aprende a mantener seguros tus proyectos creados en PHP
La seguridad en PHP no debe tomarse a la ligera ni puede realizarse en una sola acción, ya que es una disciplina que debemos alimentar constantemente, investigando, actualizando, probando potenciales agujeros de seguridad, corrigiéndolos y ante todo, encontrando el equilibrio entre la importancia de la integridad de los datos y la usabilidad de nuestra aplicación. En este curso veremos algunas posibles brechas de seguridad, y las herramientas y metodologías necesarias para evitar que se haga mal uso de nuestras aplicaciones.
Primeros pasos en la programacion con Python
Python intermedio
Primeros pasos con PHP
CSS con LESS y Sass
Desarrollo de tienda online con PHP
Desarrollo web con Django
Diseno de microsites
Entintado digital de comic
Flash CC 3: HTML5, animacion y multimedia
Flash CC novedades 2014
Formularios con Acrobat XI
HTML5. Animacion e interactividad con canvas
Instalacion y administracion de servidor Linux
Introduccion a Excel 2013
Introduccion a Firefox OS
Mi primer juego en HTML5
Mi primera web con WordPress
Microsoft Excel 2013 avanzado
Microsoft Excel 2013 basico
Microsoft PowerPoint 2013
Montaje con Adobe Photoshop Avion sumergido
Montaje con Adobe Photoshop: Perestroika
MySQL - Gestion de bases de datos
Node.js - Javascript en el lado del servidor
Publicaciones digitales: InDesign y HTML5 con in5
Publicaciones digitales: Introduccion a Mag+
Publicaciones digitales: Modelos de negocio
Mi primera app para Android
Python avanzado
Primeros pasos con Java
Fundamentos de la programacion: Codigo eficiente
Apps para Android con MIT App Inventor
Java intermedio
Java avanzado
Creacion de una app movil con Ionic
Laravel
Aprende a programar ?en cualquier lenguaje!
Creacion de apps para Mac OS X con Cocoa y Xcode 7
Android Studio 2.0. De 0 a 100
PHP orientado a objetos
Novedades de PHP 7
Welcome to the best eLearning video (English, German, French, Spanish language) and many more:
LINK
Do not forget to check my blog! Updated regularly! Add in bookmarks my blog :)
PM me if Links not working!
No mirrors pls!