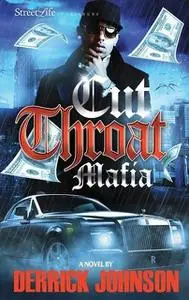 «Cut Throat Mafia» by Derrick Johnson
English | EPUB | 1.0 MB
In a country known for its underground criminal organizations, no state in America more so deserved the titled of the city of "Cut Throats". Cleveland, Ohio is the birthplace of many things, but more infamous the growth and development of the notorious criminal enterprise simply know as "The Family." What started out as simply hustling to uproot themselves from their poverty infested environment, soon turned into the formation of a tight knit organization. Known for their go hard attitudes, but feared for the ruthless way in which they rose to power. For several years the "Family" controlled the happenings in the concrete jungle of which they surveyed almost uncontested. Dedication, determination, and discipline is what got it all started. It was the glue that cemented them together, but would it be enough to keep them together. Now the family's dominance is being tested, by an unknown enemy who is determined to stop at nothing less then complete control of the city. As tension rises, so does the body count. After several encounters, all of which left a trail of bloody bodies, the family is forced to face the harsh realities, that it's a "cut throat" world full of "cut throat" people and in order to survive, you needed to be the one doing the cutting. Will the family's dominance prevail? Or will they be dethroned by people who share the same ideology!