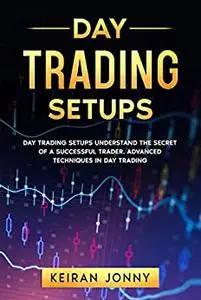 DAY TRADING SETUPS: DAY TRADING SETUPS Understand the secret of a successful trader. Advanced techniques in day trading by Keiran Jonny
English | 2021 | ISBN: N/A | ASIN: B087XBMWYY | 111 pages | EPUB | 0.19 Mb
Do you want to understand the complexities and tricks of the art of day trading in depth? If yes then keep reading
A successful day trader,
a successful day trader, is a person who stays at least for three years in the market to trade. Most of the day, traders are not able to do this. Successful traders follow their plans; they don't focus on thrills. They set realistic and smart goals.
How to start day trading
as a business you need certain tools like a laptop or computer, a mobile phone, internet access, a broker, a trading platform, updated market news. These tools will help to quickly make your trade decisions.
Trading plan
once you have decided to start a day trading business and gathered all the necessary tools, then you need to have a trading plan which includes your trading goals, plans for entry, and exit the market. You decide how much time you can give to trading, how much capital you have to trade, you need to keep yourself motivated, you determine the risk limits.
Day trading strategies
firstly, you have to select an instrument for investment like stock index, options, futures, commodities, ETFs, etc. Every instrument has its own characteristics and risk levels. Including knowledge of basic trading techniques, day traders need to keep up with the latest stock market news and events impacting stocks. Day traders need to constantly update their knowledge. There are times when the stock markets test your nerves. You need to learn, as a day trader, to keep greed, hope, and fear at bay. Decisions would be based on logic and not on emotion. Always stick to your plan.
Trend-following
refers to doing business only in the direction of the trend created. If the present trend is up, look for purchasing opportunities, and search out selling opportunities if the current trend is down.
Trade brokers and platforms
after making strategies and trade plans to start trading, you need a trade broker and a trading platform. Various trade brokers have different pros and cons you have to choose the broker that suits you best.
These are the things you need to set up your day trade business.
After reading this amazing book, you will learn
A detailed procedure to start your day trading business
All essential day trading strategies
How to make a powerful trading plan and how to execute that plan
A list of various day trading brokers and a list of trading platforms
Stock day trading and its strategies
Forex day trading detail and its strategies
Common day trading mistakes you should avoid
Money management techniques
Risk management and one percent rule
And much more