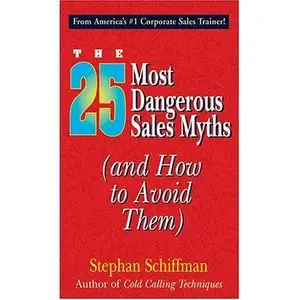 Stephan Schiffman, "25 Most Dangerous Sales Myths"
Adams Media | 2004 | ISBN: 1593370148 | 128 pages | PDF | 1 MB
In his latest edition to the highly successful 25 Sales Skills series, America's #1 corporate sales trainer, Stephan Schiffman, debunks the 25 most popular myths that cost salespeople money every day. By avoiding these myths and knowing the truth behind them, salespeople will improve their pitch and strengthen their sales calls.
For too long, salespeople have been lead astray by these dangerous "urban legends" of sales. The 25 Most Dangerous Sales Myths uncovers the truth behind such misconceptions as:
· Gimmicks "warm up" cold calls
· The customer is the enemy
· Always try to outsmart the buyer
· Everyone is a prospect
· Always work on closing the deal
Schiffman's simple, direct, easy-to-apply advice provides surefire strategies to win more sales every time, using methods that have trained thousands of top-notch salespeople worldwide.
Summary: Highly Recommended!
Rating: 5
This excellent short handbook can benefit every salesperson. The author identifies 25 of the most pernicious sales fallacies and demolishes each one. Then, he replaces them with sound common sense advice. You could summarize the book quite handily in a few words: be honest and respect your customer, listen more than you talk, learn all you can and offer not just a standard product or service but a solution to the customer's problem. This isn't the sort of book you buy to read once. It is the kind of book you buy to keep in your desk drawer and glance at periodically. Be forewarned - the author is in the business of selling sales training, and doesn't make the mistake of giving away the secrets he sells. However, we find that these simple reminders of what mistakes to avoid may sometimes be as valuable, or more valuable, than comprehensive advice on what to do.
Not all books on AvaxHome appear on the homepage.
In order not to miss many of them follow
ebooks section
(see top of each page on AH)
and visit
my blog
too :)
NO MIRRORS according to the rules