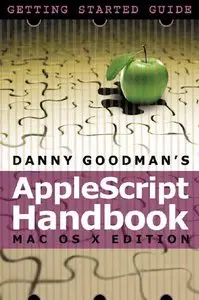 Danny Goodman, "Danny Goodman's Applescript Handbook"
iUniverse.com; 2 ed | 1998 | ISBN: 0966551419 | 576 pages | PDF | 7,2 MB
Make your Mac do what you want your Mac to do. This bestselling guide to Applescript by author Danny Goodman gives you everything you need to know to create scriptable applications. This edition includes in-depth coverage of the scriptable Finder, FileMaker Pro, QuarkXPress, Microsoft Excel, Hypercard, Microsoft Word, WordPerfect, MacWrite Pro and TouchBase. AppleScript is an important facet of the new Apple OS 8.5.
Only

ONE (1)

RS mirror, please