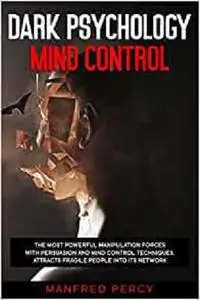 Dark psychology mind control: The most powerful manipulation forces with persuasion and mind control techniques. Attracts fragile people into its network. by Manfred Percy
English | January 8, 2020 | ISBN: 1657709523 | 141 pages | EPUB | 0.98 Mb
Do you want to learn the most powerful manipulation forces with persuasion and mind control techniques, attract fragile people into its network? If yes, then keep reading…Dark Psychology is one of the arts of persuasion and mind control. Psychology refers to the study of the behaviors of human beings. It is the center of every human being's thinking, their deeds, and socialization. Therefore, Dark Psychology is basically the phenomenon through which human beings apply manipulation, persuasion, and mind control techniques to fulfill their intentions. In dark psychology, there is the 'Dark Psychology Triad' which is one of the easiest predictors of manipulator's behavior, collapsed relationships, and also being problematic. The Dark Psychology Triad includes:The narcissists - These kinds of people are filled with ego, grandiosity, and have no empathy or sympathy.The Machiavellians - These kinds of people use manipulation, persuasion, and mind control to exploit and lure people. In addition to this, they are always immoral. The psychopathy - They are friendly and always charming, impulsive, selfish, lack empathy, and are not remorseful. No one in this world would wish to be a victim of manipulation even though it happens whether you are conscious or unconscious of it. In the case you fall under manipulation, it is not necessarily someone in the Dark Psychology Triad, but you will face persuasion on a daily basis. Manipulation tactics always manifest themselves in regular commercials, Internet advertisements, sales tactics, and in your workplaces. If you are a parent, you must have come across these tactics in your everyday life since children tend to experiment with tactics so that they can get what they want. Dark Psychology is used by people who you genuinely love or trust. In Dark Psychology, the manipulators use the following tactics:They flood their targets with love, compliments, and buttering up to acquire what they want.They lie too much, exaggerate things, tell untruths or even tell partially true stories.They deny their love to those they are targeting through withholding their attention.They give some choice routes that distract you from the choice you do not want them to make. They apply reverse Psychology, which involves doing something which motivates their victim to do the opposite, which turns out to be what they wanted.They use words assumed to have the same definition, but later tell you they meant something else throughout the conversation. This book gives a comprehensive guide on the following:•What is dark psychology•How dark psychology is used in the world•Techniques of how dark psychology manages to manipulate people•Defending yourself from dark psychology•How dark psychology affects social life and people's relationships•Come up with your own technique•How manipulative behavior develops•Introduction to psychological warfare•Common tactics and techniques used to influence others•Case studies•Defending yourself against manipulation•Fly into their minds with kamikaze mind control•… AND MORE!!!What are you waiting for?
Feel Free to contact me for book requests, informations or feedbacks.
Without You And Your Support We Can't Continue
Thanks For Buying Premium From My Links For Support