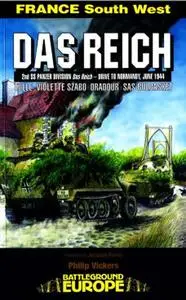 Philip Vickers - Das Reich: 2nd SS Panzer Division Das Reich - Drive to Normandy, June 1944
Pen & Sword Books | 2000 | ISBN: 1580970478 | English | 191 pages | PDF | 92.4 MB
Battleground Europe
The regiments of the 2nd SS Panzer Division "Das Reich" were, along with the "Leibstandarte Adolf Hitler," the senior units of the Waffen-SS. While not as closely linked to atrocities as some other branches of the SS, they were a hard lot, and spent much of the war on the Eastern Front, where the fighting was especially merciless. June 6, 1944 found the division refitting at Montauban in southwestern France. Ordered to proceed to Normandy to contain the Allied landings, the division's journey turned into a nightmare of ambushes and reprisals, as the column was attacked by the French Resistance and some British special forces units. SS reprisals culminated in the massacre at Oradour, probably the largest killing of civilians on the Western Front. The complete story of the SS juggernaut across France is covered here in all the detail associated with the Battleground Europe series, with numerous illustrations, maps and guides to the sites as they are today.