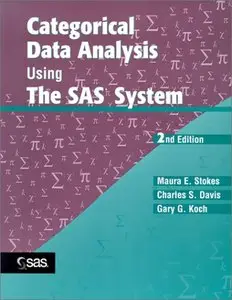 Maura E. Stokes, Charles S. Davis, Gary G. Koch, "Categorical Data Analysis Using The SAS System"
WA (Wiley-SAS) | 2001 | ISBN: 0471224243 | 648 pages | PDF | 3,1 MB
Most design pattern books are based on C++ and Java. But Ruby is different—and the language's unique qualities make design patterns easier to implement and use. In this book, Russ Olsen demonstrates how to combine Ruby's power and elegance with patterns, and write more sophisticated, effective software with far fewer lines of code.
After reviewing the history, concepts, and goals of design patterns, Olsen offers a quick tour of the Ruby language—enough to allow any experienced software developer to immediately utilize patterns with Ruby. The book especially calls attention to Ruby features that simplify the use of patterns, including dynamic typing, code closures, and "mixins" for easier code reuse.
Fourteen of the classic "Gang of Four" patterns are considered from the Ruby point of view, explaining what problems each pattern solves, discussing whether traditional implementations make sense in the Ruby environment, and introducing Ruby-specific improvements. You'll discover opportunities to implement patterns in just one or two lines of code, instead of the endlessly repeated boilerplate that conventional languages often require.
Along with providing a useful discussion of categorical data analysis techniques, this book shows how to apply these methods with the SAS System. The authors include practical examples from a broad range of applications to illustrate the use of the FREQ, LOGISTIC, GENMOD, and CATMOD procedures in a variety of analyses. They also discuss other procedures such as PHREG and NPAR1WAY.
Not all books on AvaxHome appear on the homepage.
In order not to miss many of them follow
ebooks section
(see top of each page on AH)
and visit
my blog
too :)
NO MIRRORS according to the rules