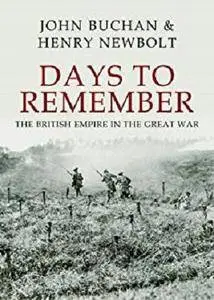 Days to Remember: The British Empire in the Great War by John Buchan, Henry Newbolt
English | August 16, 2018 | ISBN: N/A | ASIN: B07GL3DLK5 | 177 pages | EPUB | 0.26 MB
Making History. The Home of 99p/99c History Books.
The First World War was, for Britain, as much about Imperial conflict, as it was about fighting on the Western front.
Hundreds of millions of colonial subjects were forced into the war, and made a huge difference to the strength of the British army.
In this fascinating study, Henry Newbolt and John Buchan take a general overview of the First World War, from its causes to the aftermath, with the focus on the central role played by both Britain and its colonies.
They cover the major campaigns on the Western Front – Ypres, Loos, Cambrai, Marrières Wood and the Marne, as well as the battles fought around the globe – in particular Galipolli and the capture of Jerusalem - and the main campaigns at sea.
'Days to Remember' is a vivid and fascinating account of the struggles and achievements of the British Empire in the First World War.
Henry Newbolt was born in Wolverhampton in 1862, and went on to become a poet, novelist and historian. He was also a very powerful government adviser.
John Buchan was a Scottish novelist, historian and Unionist politician who also served as Governor General of Canada. During the First World War he worked for the British War Propaganda Bureau. He is most famous for his classic thriller, 'The 39 Steps'.