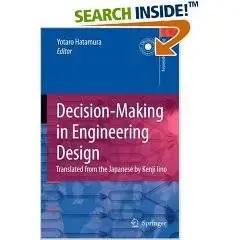 Yotaro Hatamura, "Decision-Making in Engineering Design: Theory and Practice"
Springer; 1 edition (January 10, 2006) | ISBN:1846280001 | 265 pages | PDF | 3,3 Mb
We use our brains when we create plans and designs. The resulting plans and designs take physical form, however, what we thought about, the alternatives we tried, and the constraints we recognized while we were making these plans and designs are usually not written anywhere. Therefore, those who only get to see the results, e.g. the final text and drawings, do not learn what led the designer to reach such conclusions and as a consequence never understand the real design.
Decision-making in Engineering Design is the first monograph to provide a much-needed insight into the ways in which our minds behave when we make decisions, focusing particularly on decisions made about design.
Written by members of The Practice of Machine Design Research Group and consisting of four parts, Decision-making in Engineering Design uses case studies to illustrate the decisions made by engineers in a variety of situations. A variety of diagrams are also used to express the decision processes that take place in the mind. The final part of the book focuses on a single case study which demonstrates the importance of understanding the mind processes involved in decision making.
This description of decision processes will provide the means for the development of new manufacturing systems and production activities in the future because it helps us gain a real understanding of the how the mind processes we go through when making decisions affect the decisions that we make.