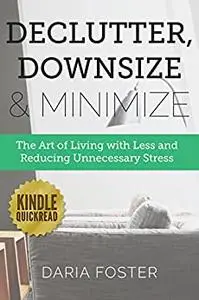 Declutter, Downsize & Minimize: The Art of Living with Less and Reducing Unnecessary Stress (Declutter, Organize and Simplify) by Daria Foster
English | 2015 | ISBN: N/A | ASIN: B00VMVMPUE | 66 pages | EPUB | 0.10 Mb[/center
Praise for this book…

"Very helpful system. Encouraging, motivational and practical for the chronically cluttered."

"I have been staring at several cluttered rooms for MONTHS! This was a great reminder and a simple system to help me get back to the minimization of stress that comes with simplification and decluttering."

"A quick read that makes a lot of sense. I plan to review these principles regularly. Thanks!"

In this edition of the Daria Foster encourages us to Declutter, Downsize & Minimize so that we can experience "the art of living with less and reducing unnecessary stress."