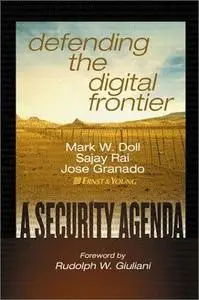 Ernst & Young LLP, Mark W. Doll, Sajai Rai, Jose Granado "Defending the Digital Frontier: A Security Agenda"
Wiley | 2002-12-20 | ISBN: 0471221449 | 280 pages | PDF | 2,1 Mb
Praise for Defending the Digital Frontier
"The charge of securing corporate America falls upon its business leaders. This book, offered by Ernst & Young and written by Mark Doll, Sajay Rai, and Jose Granado, is not only timely, but comprehensive in outlook and broad in scope. It addresses many of the critical security issues facing corporate America today and should be read by responsible senior management."
–Rudolph W. Giuliani
Former Mayor of New York
"Security is no longer just a technical issue. It needs to be managed holistically across physical and digital infrastructures as part of a wider program of risk management. That's exactly what CA's eTrust security solutions deliver. This is a must-read for all executives that have spent millions on information technology and have not thought about the risks. This book is a wake-up call to busy executives that think their digital assets are secure."
–Sanjay Kumar
President and CEO
–-No mirrors, please–-