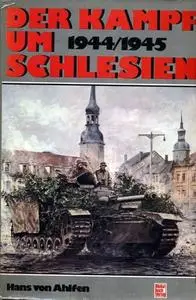 Hans von Ahlfen - Der Kampf um Schlesien 1944-1945
Motorbuch Verlag | 1976 | ISBN: 3879434808 | Deutsch | 248 pages | PDF | 118.4 MB
Der Verfasser dieser groß angelegten, systematischen Darstellung über die Kriegsereignisse in ganz Schlesien, Generalmajor a. D. Hans von Ahlfen, hat dort selbst gekämpft. Durch mühevolle Forschungen, durch Befragung vieler Persönlichkeiten - vom Oberbefehlshaber der Armeen bis zu den Bataillonsführer, von hohen Verwaltungsbeamten bis zu einfachen Flüchtlingen konnte er das Material erarbeiten, das diesem Dokumentarbericht zugrunde liegt.
The battle for Silesia in 1944-45 by the commanding general of the fortres city of Breslau. Contains large scale map in printable chunks.