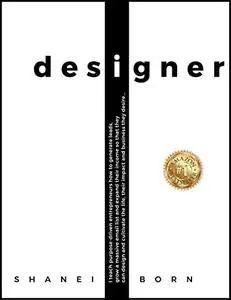 Designer: I teach purpose-driven entrepreneurs how to generate leads, grow a massive email list & expand their income so that they can design and cultivate the life, impact and business they desire. by Shanei Born
English | February 28, 2022 | ISBN: N/A | ASIN: B09NMNHX35 | 96 pages | EPUB | 0.11 Mb
How to generate more Profit by chasing your Purpose & Passions
Do you want to start making an impact in people's lives with your passion and purpose, live the life you were designed for while generating an impressive income?
Then this book is for you.
You'll discover how to design and cultivate the life, impact and business you desire…
Build, grow and scale your business even if you are an aspirational entrepreneur wanting to impact lives.
Come with me on this journey where you'll learn how to :
Pursue your purpose
Act on your mission
Re-discover and leverage your passions
Discover the possibilities of creating the massive impact you want
Positive mindset and belief
Define your perfect customer and build a massive, targeted email list
Position yourself in the market
Product creation & how to offer itt o your perfect customer
Price your product
Build a Promotion system that will give you leads on demand automatically with the right kind of traffic.
Prepare and design your life and business for success
Maximize your profit to grow your business exponentially
You'll find the same marketing strategies I used to 3-5-10X my clients' companies in spite of power outages; strikes or even circumstantial restrictions and challenges…
These strategies helped me put the puzzle pieces together that I discovered over the last 15 years.
I went from
broke to create a 7 figure income.
from vicious work hours to time freedom,
from work, home, sleep, repeat, to pursuing my purpose and loving every moment!
And I'm sharing everything with you in this book.
If you are ready to pursue your purpose, then come and get the secret strategies to grow and scale your business. Start thriving with the guiding principles in this book.
If you don't have a business, but you're an aspiring entrepreneur who has a mission, you can use the same strategies to design your life & business for success without doubting yourself, even if you think it's impossible.
You were made for so much more,
You were designed for this,
You were Born for this!
Feel Free to contact me for book requests, informations or feedbacks.
Without You And Your Support We Can't Continue
Thanks For Buying Premium From My Links For Support