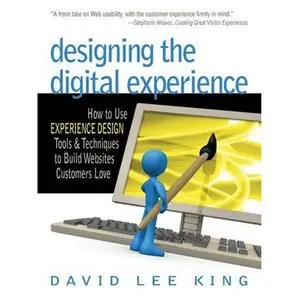 David Lee King, "Designing the Digital Experience: How to Use EXPERIENCE DESIGN Tools & Techniques to Build Websites Customers Love"
CyberAge Books | 2008 | ISBN: 0910965838 | 224 pages | PDF | 5,5 MB
Written for creative, tech-savvy, and business-minded individuals who want to increase the accessibility of their websites, this sensible guidebook explains the concepts behind designing experiences on the internet. From helping customers quickly find information and make their purchases to clearly communicating needs and interests, this resource will not only develop consumer loyalty but will encourage them to spread the word about the sites they frequent. Focusing on the three key areas of structure, community, and customers, designers will enable clients to focus on their own goals rather than on difficulties in navigating. Also included are tips on how to generate conversations with blogs, wikis, and podcasting to create a personal touch.
Only

ONE (1)

RS mirror, please