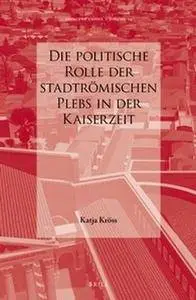 Die politische Rolle der stadtrömischen Plebs in der Kaiserzeit by Katja Kröss
German | 2017 | ISBN: 900425904X | 384 Pages | PDF | 3.0 MB
Die politische Rolle der stadtromischen Plebs in der Kaiserzeit engages with the topical question of the political role of the Roman plebs in the imperial period and seeks to reconstruct how it may have looked in practice and how it can be defined. Detailed source criticism of Tacitus, Suetonius, Dio Cassius, and others demonstrates that the passages thematizing citizens are primarily narrative in function. This approach further sharpens our understanding of the plebs' actual historical actions both regarding their causes, forms, and extent, as well as their attitude towards the emperors. This reappraisal allows for new insights and corrects numerous prior assessments, especially with regard to the function assigned the plebs as part of the so-called 'system of acceptance'. Die politische Rolle der stadtromischen Plebs in der Kaiserzeit befasst sich mit der vieldiskutierten Frage, wie die politische Rolle der stadtromischen Plebs in der Kaiserzeit ausgesehen haben mag und wie sie definiert werden kann. Die Autorin kann anhand intensiver Quellenkritik, insbesondere der Werke des Tacitus, Sueton und Cassius Dio, einerseits zeigen, dass die Passagen zum Volk in erster Linie eine narrative Funktion erfullen. Andererseits ermoglicht genau dieser Zugang, die Kenntnisse uber die historischen Aktivitaten zu scharfen: etwa hinsichtlich Auslosern, Formen oder Umfang, aber auch der Haltung der Plebs gegenuber den Principes. Dadurch werden neue Einblicke gewahrt und etliche Positionen der bisherigen Forschung korrigiert. Als unhaltbar erweist sich insbesondere die Rolle, die der Plebs im sogenannten, Akzeptanzsystem' zugesprochen wird.