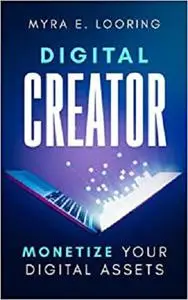 Digital Creator: Monetize Your Digital Assets by Myra E. Looring
English | September 20, 2021 | ISBN: 1952814162 | 143 pages | EPUB | 0.20 Mb
The holy grail of online businesses: ditch your 9-5 and earn a six-figure income without leaving the couch.
Are you fed up with busting your butt to make your boss richer?
Do you want to escape the rat race and put together a solid retirement plan?
Your previous online business endeavours didn't work out, and you want to find out why?
If this sounds like you, then starting a digital online business may be the answer you've been looking for.
Passive income has been a global phenomenon in recent years. Bloggers are becoming millionaires, teenagers get insanely rich on YouTube, and influencers retire in their 30s.
These stories paint a lovely picture of success and wealth but are they realistic?
And if they are, how to hop on this money-making wagon?
The most challenging part of creating a passive income is deciding which road is the best for you. There are numerous options so it's easy to get overwhelmed.
The first step to creating a massively successful online business is to dig out the secrets that other winners have used, and simply model after them.
In Digital Creator, here is just a fraction of what you will discover:
8 most powerful online business models you can copy and paste into your life
The #1 secret to gaining tons of buyers on Amazon Merch
A bulletproof strategy to getting a constant stream of clients on Upwork and Fiverr
The no-brainer PLR method so you can start a business with a product that's not even yours
A goldmine of affiliate marketing knowledge, so you can get paid when people click on your link
The unsuspected link between Instagram and consultations or coaching that you're not taking advantage of
The astonishing truth behind online courses and why they may be the best digital product you could ever own
And much more.
The best part about starting an online business are the incredibly low startup fees. Unlike a typical brick and mortar business, online ventures have no need for warehouses or open-close times –you can sell to whoever, whenever you want.
Digital Creator has the potential to transform your life completely, and leave you wondering why in the world you didn't start sooner.
Feel Free to contact me for book requests, informations or feedbacks.
Without You And Your Support We Can't Continue
Thanks For Buying Premium From My Links For Support