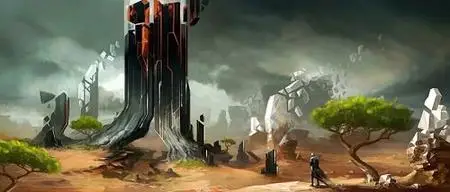 Digital Landscape Painting Workout with Nathan Fowkes
M4V | ENG | Video: h264, yuv420p, 1920x1080 | Audio: aac, 44100 Hz | Duration: 24h:35m | Size File: 8.62 GB
Genre: eLearning
Strengthen your artistic muscles with Nathan Fowkes, concept artist for DreamWorks, Disney, Blue Sky Studios, and many others!
Nathan has created 30 digital landscape painting demonstrations and provided all the relevant references so you can paint along with each workout every day for 30 days (or take it at your own pace). Each demonstration is less than an hour and the series is carefully structured to take you through the process of:
- Understanding the structure of your subject.
- Dealing with the complexities and details of your subject.
- Digital painting techniques.
- Creating an effective quality of light in your subject.
- Managing the complexities of color to bring believability and emotion to your subject.
And you don't have to be a landscape painter, this workout is for digital artists of any kind!