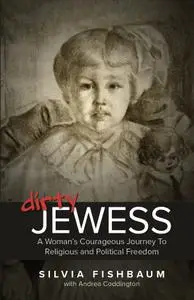 Dirty Jewess: A Woman's Courageous Journey to Religious and Political Freedom by Silvia Fishbaum
English | December 20th, 2018 | ISBN: 9655242773 | 200 pages | EPUB | 1.71 MB
Dirty Jewess is the personal account of one woman's courageous journey towards religious and political freedom while coming of age in post-Holocaust, communist Czechoslovakia. The narrative recalls the author's experience as a child of Holocaust survivors, living as a refugee in Rome, and finally realizing her dream of becoming a successful American citizen. Silvia Fishbaum's life behind the iron curtain is a universal tale of humanity, resilience, and overcoming adversity. Fishbaum weaves together her mother's testimony of Auschwitz with the testimony of her childhood art tutor, Ludovit Feld—a victim of Mengele's experiments—to create a compelling and layered life narrative.