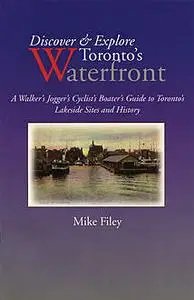 «Discover & Explore Toronto's Waterfront» by Mike Filey
English | EPUB | 2.5 MB
Out of print for many years, this much sought-after guide is being brought back just in time for the megacity's first summer. Mike Filey has expanded his original book to include areas that are now the waterfront of the new City of Toronto, stretching from the west end of Etobicoke to the Rouge River in the east. This valuable guide is an essential tool for anyone with an interest in Toronto: tourists, locals, and even out-of-towners who want to learn more about the lakeside sites of North America's fifth-largest city.
The book is divided into three Walks. New and archival photographs and illustrations capture the beauty and charm of the city, while the text provides the history of each site, complete with intriguing and often amusing anecdotes.
For residents and tourists, Toronto continues to be a great city to explore. With
Discover & Explore Toronto's Waterfront
, exploration is made even more exciting.