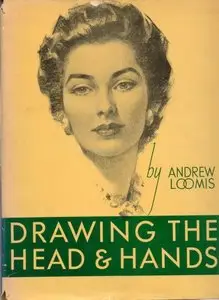 Andrew Loomis, "Drawing the Head and Hands"
Viking Adult | 1956 | ISBN: 0670283851 | 141 pages | PDF | 36,2 MB
Walter Foster's classic How to Draw and Paint series provides aspiring artists with an exceptional array of art instruction books featuring all subject areas and media. Each title includes easy step-by-step exercises as well as finished illustrations or paintings that will inspire artistic talent in anyone.
Packed with practical information, helpful tips, and fundamental techniques, the How to Draw and Paint series offers a complete library of resources to which artists of all skill levels can refer again and again.
What you'll learn from this book …
• Proper construction of the human head, and where to place features
• Hints on creating differences in type and character
• How the construction of male heads differs from that of female heads
• An understanding of form based on the use of planes
• Skills for using the proportional differences among heads of people of different ages
• The simple bone structure of the head on the neck
• How to draw a variety of facial expressions
Not all books on AvaxHome appear on the homepage.
In order not to miss many of them follow
ebooks section
(see top of each page on AH)
and visit
my blog
too :)
NO MIRRORS according to the rules