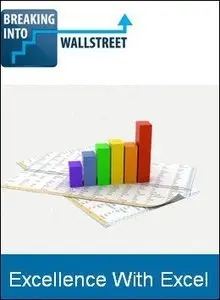 Excellence With Excel
HDRips | MP4/AVC, ~291 kb/s | 1024x768 | Duration: 7.5 hours | English: AAC, 52 kb/s (2 ch) | 968 MB
Genre: Economics and finances
Excellence With Excel teaches you everything you need to know about Excel for investment banking and private equity, from navigation basics and formatting all the way up to formulas, macros, and advanced topics like pivot tables.
These lessons are based on two real-life case studies: how to format, manipulate, and analyze customer due diligence data, and how to build and format a 3-statement model and valuation of Wal-Mart.
You'll learn everything via practice exercises included in each lesson, as well as with in-video, interactive quizzes in the key lessons – and when it's time to review, you'll get full transcripts for all the lessons.
In addition, each video is captioned with the shortcut keys we use throughout so that you can easily follow along and learn by watching and by doing.
- Lessons cover navigation, manipulating data and worksheets, formatting, formulas, and advanced topics like lookup functions, pivot tables, VBA, macros, and custom shortcuts.
- Introductory Excel Lessons include how to set up Excel properly, navigation, data manipulation, formatting, printing, and key formulas used in finance.
- Advanced Excel Lessons teach you lookup, array, and database functions, scenarios, iterations and circular references, error handling, graphs and charts, and introduce you to VBA, macros, form controls, custom shortcuts, and user-defined functions.
- 63 videos total (23 hours of footage).
- Time-Saving Excel Shortcuts: includes 7 quick reference guides for Excel 2003, Excel 2007 / 2010 / 2013, and Mac Excel 2008 / 2011 shortcuts.
- Test your knowledge of Excel and how to use it in finance with 146+ in-video quiz questions that you can take as you complete the lessons.
- 31 lessons on Excel setup, data manipulation, and formatting: includes everything from inserting, editing, and deleting cells, rows, and columns to color coding financial models, using the Ctrl + 1 and Alt + H shortcuts, grouping, hiding, and printing, and cleaning up data with text, date, and other functions.
- 17 lessons on functions and formulas, including built-in functions, key built-in math, logical, lookup, and financial functions, database functions and pivot tables, array functions, scenarios, comments and formula auditing, circular references, and more advanced functions such as Indirect and Address.
- 9 lessons on charts and graphs: from simple line and column charts to combination charts to price-volume graphs, the "football field" valuation graph, graphing public comps, and waterfall bridge charts.
- 6 lessons on VBA and macros, including how to record and edit macros, use VBA for loops and conditionals, write user-defined functions, use form controls for dynamic charts, and create custom keyboard shortcuts.
Welcome to the best eLearning video (English, German, French, Spanish language) and many more:
LINK
Do not forget to check my blog! Updated regularly! Add in bookmarks my blog :)
PM me if Links not working!
No mirrors pls!