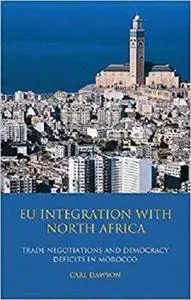 EU Integration with North Africa: Trade Negotiations and Democracy Deficits in Morocco (Library of European Studies) by Carl Dawson
English | March 15, 2009 | ISBN: 1845117840 | 224 pages | PDF | 3.10 Mb
Trade between the European Union and North Africa has been a contentious issue since the Treaty of Rome. Serious diplomatic attempts to broker a resolution resulted in the Association Agreement between Morocco and the EU in 1995, after protracted negotiations over three years. Here Dawson analyzes the process by which a sub-optimal agreement was ratified–unfavorable to Morocco, some member states of the EU and also wider EU economic objectives for North Africa. He draws on a rich vein of testimony from key players to show how democracy deficits in Morocco and excessive pressure group influence in the EU led to skewed negotiations. An insightful analysis of the trade negotiation process,
EU Integration with North Africa
elucidates the underpinnings of the global economic order; it will be valuable for those concerned with international relations, globalization and the EU, especially North Africa.
Feel Free to contact me for book requests, informations or feedbacks.
Without You And Your Support We Can't Continue
Thanks For Buying Premium From My Links For Support