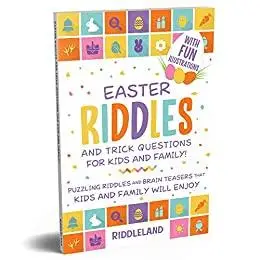 Easter Riddles and Trick Questions For Kids And Family: Puzzling Riddles and Brain Teasers that Kids and Family Will Enjoy Ages 7-9 9-12 (Easter Basket Gift Ideas) by Riddleland
English | February 11, 2021 | ISBN: N/A | ASIN: B08WK2LCL3 | 99 pages | EPUB | 5.44 Mb
Celebrate this Easter with this massive collection of riddles for children of all ages!
Quality time is the most precious gift you can give to a love one.
Packed with fun riddles, Easter Riddles and Trick Questions for Kids and Family is the answer to spend some quality time together.
🐰With Fun Illustrations 🐰
In
Easter Riddles and Trick Questions for Kids and Family
, you'll find fun that will entertain you all day long. You'll discover:
🌼
Head-scratching riddles and groan-worthy trick questions
, ranging in difficulty from easy to hard
🌼 A surprising way to build your child's confidence by stealth
🌼 A
fun family bonding
experience that includes all members of the family
🌼
Charming illustrations to entice even the most reluctant of readers
🌼 Interesting fun facts and history about Easter
🌼 Mind-bending challenges for kids and grown-ups alike
🌼 A natural way to build children's linguistic ability, problem-solving skills, and resilience in the best way there is – through fun!
🌼
The ultimate solution to quell those painful cries of, "I'm bored!"
🌼 All the answers provided so no one's left frustrated
And much more.