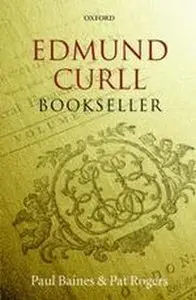 Paul Baines, Pat Rogers, "Edmund Curll, Bookseller"
Publisher: Oxford University Press, USA | 2007-03-15 | ISBN 0199278989 | PDF | 398 pages | 2.8 MB
Edmund Curll was a notorious figure among the publishers of the early eighteenth century: for his boldness, his lack of scruple, his publication of work without author's consent, and his taste for erotic and scandalous publications. He was in legal trouble on several occasions for piracy and copyright infringement, unauthorized publication of the works of peers, and for seditious, blasphemous, and obscene publications. He stood in the pillory in 1728 for seditious libel. Above all, he was the constant target of the greatest poet and satirist of his age, Alexander Pope, whose work he pirated whenever he could and who responded with direct physical revenge (an emetic slipped into a drink) and persistent malign caricature. The war between Pope and Curll typifies some of the main cultural battles being waged between creativity and business. The story has normally been told from the poet's point of view, though more recently Curll has been celebrated as a kind of literary freedom-fighter; this book, the first full biography of Curll since Ralph Straus's The Unspeakable Curll (1927), seeks to give a balanced and thoroughly-researched account of Curll's career in publishing between 1706 and 1747, untangling the mistakes and misrepresentations that have accrued over the years and restoring a clear sense of perspective to Curll's dealings in the literary marketplace. It examines the full range of Curll's output, including his notable antiquarian series, and uses extensive archive material to detail Curll's legal and other troubles. For the first time, what is known about this strange, interesting, and awkward figure is authoritatively told.