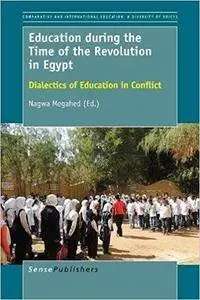 Education during the Time of the Revolution in Egypt: Dialectics of Education in Conflict by Nagwa Megahed
English | 2017 | ISBN: 9463512047 | 182 Pages | PDF | 11.5 MB
Since the 25th January 2011 revolution, Egyptians experienced and engaged in a daily debate. Controversially, some argued that the conflict and revolts in Egypt, and the Arab region, were neither coincidental, nor the result of a "domino effect" of collective actions by oppressed people against autocratic regimes. Rather, these revolts were the result of mobilization efforts made over decades by several activist groups, as well as national and international non-governmental organizations. Contrary to this view, others claim that despite the rapid economic growth of Egypt in the 2000s, there was a wide gap in the distribution of wealth and economic return, which left the majority of Egyptians suffering from poverty and high rate of unemployment, especially among youth. Obviously, while national and international economic and political dynamics dominated the daily debate, education remains the forgotten arena amidst conflict. With the exacerbation of conflict between militant extremists and modern states in the region, and most recently in many European countries, it became more important than ever before to understand the dialectics of education in conflict in different local contexts, starting in this book by the Egyptian context.
The book focuses on education in Egypt during the time of the revolution as perceived by university students, youth activists, educational professionals, government officials and civil society organizations. Its chapters reveal the tension, contradiction and/or coherence among different players as related to their respective role in education for civic engagement, national identity, global citizenship, peace-building, teacher professional development, and women's and students' empowerment. The book illustrates the dialectics of education in conflict by articulating diverse meanings and perspectives given by Egyptian stakeholders when describing their actions and reality(ies) during the time of the revolution and its aftermath.