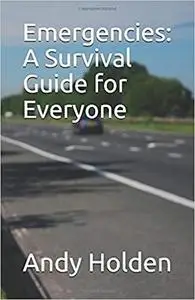 Emergencies: A Survival Guide for Everyone by Andy Holden
English | August 12, 2020 | ISBN: N/A | ASIN: B08FP9Z1QJ | 107 pages | AZW3 | 4.54 Mb
Humans are pre-programmed to attempt to survive and keep our species alive. The fight or flight instinct within us goes back to pre-historic times, when danger lurked around every corner, and if you didn't have your wits about you the chances are that you would end up as supper for a wild animal. In the modern world the chances of being eaten by a hungry animal on the streets of Manchester of London are around zero, and although there is danger out there, it does not threaten us with quite the same frequency.Emergencies, no matter how small, can be stressful, particularly if you don't know what to do or how to react. It can be very frustrating knowing that you want to help, but you don't feel that you can bring anything to the situation. By learning some simple skills you really can make a difference when things go wrong. Over the last 16 years I have attended emergency incidents ranging from minor fires to life threatening medical emergencies, and on many occasions, without the intervention of bystanders the outcome may not have been a positive one. What these people did was not complicated and wasn't the result of years of training; they remained calm, which is half the battle, and used simple lifesaving skills to stabilise the situation until the cavalry arrived. It may be carrying out CPR or knowing how to find and use a defibrillator; even a little local knowledge or some basic map reading skills can assist the emergency services in finding the incident. The purpose of this book is not to replace any formal training, or turn you into a professional rescuer, it is simply to give some basic advice on how to survive if you find yourself in the middle of one of life's emergencies. This book will take you through emergencies at home and in the outdoors, explaining how to avoid them and what to do if one occurs. The Author has 17 years experience within the emergency services as an operational first responder, incident commander and instructor, with experience of a variety of incidents including fires, floods, medical emergencies, chemical incidents and rescues from height.
Feel Free to contact me for book requests, informations or feedbacks.
Without You And Your Support We Can't Continue
Thanks For Buying Premium From My Links For Support