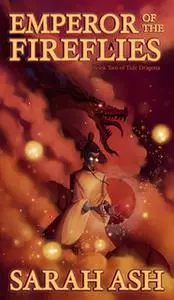 «Emperor of the Fireflies» by Sarah Ash
English | ISBN: 9781912022946 | EPUB | 0.6 MB
Sparks… glittering like fireflies against the night sky… Kai and Masao, once enemies, are now condemned to the sea by the Tide Dragons Sacrifice. If Hotaru, the new emperor, is unable to summon the Tide Dragons of Ebb and Flood at the Autumn Moon Festival, he will forfeit the right to rule Cipangu. The two Sacrifices face a desperate race against time to free themselves from this ancient curse before Hotaru binds them with forbidden magic to obey his will - forever. Sakami, Kai's lover, has become a kitsune, a fox spirit. She is determined to do all in her power to save him - but is Hotaru, aided by his treacherous shikigami, Kurika, just too formidable an opponent to overcome?