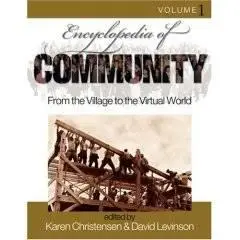 Karen Christensen, David Levinson , "Encyclopedia of Community : From the Village to the Virtual World"
SAGE Publications; 1 edition (June 23, 2003) | ISBN: 0761925988 | 2000 pages | PDF | 18,2 Mb
Subject encyclopedias generally cover a well-defined academic area, historical period, or topic. The Encyclopedia of Community focuses on the hard-to-define concept of community and works to explore and position that concept within many disciplines and contexts. Entries such as Apartheid, Blogs, County fairs, Eugenics, Gangs, Shtetls, Social Darwinism, and Third places display the wide scope that the editors and contributors give to the notion of community.
Experienced reference book editors Christensen and Levinson (Encyclopedia of Modern Asia [Scribner, 2002] and Encyclopedia of World Sport [Oxford, 1999], among others) have assembled an international group of scholars to produce a set containing 500 signed entries, arranged in alphabetical order, with bibliographies and cross-references where appropriate. Some 266 of the entries are supplemented with sidebars that contain additional information, much of which comes from primary sources. An example is Emma Goldman's address to the jury during her trial as a sidebar to the entry Anarchism. The encyclopedia opens with lists of entries, sidebars, and contributors. A "Reader's Guide" groups the entries into 20 general categories, offering a thematic alternative to the alphabetical arrangement.
There are four potentially useful appendixes. "Resource Guides" offers 21 broad subject areas (not the same as those in the "Reader's Guide" mentioned above), each with a definition, list of applicable entries, books and Web sites for further research, journals, and organizations. "Libraries Build Community" is designed to assist librarians by describing different kinds of outreach activities. "Community in Popular Culture" lists books, movies, television programs, and other resources on the theme of community, and the "Master Bibliography of Community" compiles most of the works cited in the articles. The entries themselves are clearly written and intended for a general researcher.
In spite of all the positive aspects of this work, it is necessary to question how essential it might be to a general academic or public collection. As most of the topics can be found in other subject encyclopedias, unless the focus on "community" matches a specific need, this may not be worth the price. For collections supporting community studies programs, as well as for comprehensive collections in sociology, urban planning, and the like, it is a good choice.