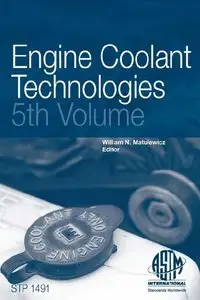 William N. Matulewicz, "Engine Coolant Technologies: 5th Volume"
ASTM International | 2008 | ISBN: 0803134207 | 154 pages | PDF | 3,3 MB
Fourteen peer-reviewed papers present the latest research in modern engine coolant formulating. Topics cover: International coolant development; Field testing of coolant additives; Engine coolant recycling; Engine component and coolant additive compatibility; Alternate coolant base technology; Extended life oxidation and thermal stability; New testing methods of cavitation, erosion, and localized corrosion. The advances in coolant system components and construction continue to impact the modern automotive, heavy-duty, locomotive and free standing engine design and performance. The expanding use of lighter metals, advances in nonmetallics, changes in fluid control technologies and coolant filtration in today?s engines, plus advancing discoveries in EGR and fuel cell technologies in engines of the future are a few of the challenges facing the experts in engine coolant formulating.
Not all books on AvaxHome appear on the homepage.
In order not to miss many of them follow
ebooks section
(see top of each page on AH)
and visit
my blog
too :)
NO MIRRORS according to the rules