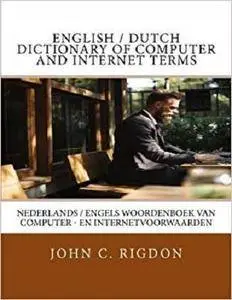 English/Dutch Dictionary of Computer and Internet Terms: Nederlands/Engels Woordenboek van computer - en internetvoorwaarden (Words R Us Computer … (Volume 8) (English and German Edition) by John C. Rigdon
English, German | May 28, 2017 | ISBN: 1546977139 | 482 pages | AZW3 | 2.80 MB
Dutch is a West Germanic language that is spoken in the European Union by about 23 million people as a first language—including most of the population of the Netherlands and about sixty percent that of Belgium—and by another 5 million as a second language. It is the third most widely spoken Germanic language, after German and English. Dutch is the native language of the majority of the population of Suriname, and also holds official status in Aruba, Curaçao and Sint Maarten, which are constituent countries of the Kingdom of the Netherlands. Historical minorities on the verge of extinction remain in parts of France and Germany, and in Indonesia, while up to half a million native speakers may reside in the United States, Canada and Australia combined. The Cape Dutch dialects of Southern Africa have evolved into Afrikaans, a mutually intelligible daughter language which is spoken to some degree by at least 16 million people, mainly in South Africa and Namibia. Dutch is one of the closest relatives of both German and English and is said to be roughly in between them. This English / Dutch Dictionary of Computer and Internet terms contains 24,000 word pairs in each language along with the part of speech. It is derived from our Words R Us system, a derivative of WordNet. WordNet can be viewed as both a combination of dictionary and thesaurus. The English Wordnet, originally created by Princeton University is a lexical database for the English language. It groups words in English into sets of synonyms called synsets, provides brief definitions and usage examples, and records a series of relationships between these sets of synonyms.