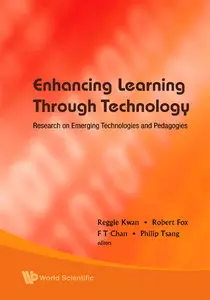 Reggie Kwan ,Robert Fox,F. T. Chan,Philip Tsang"Enhancing Learning Through Technology"
World Scientific (6-2008) | PDF | 292 pages | English | ISBN:9812799443 | 10.7Mb(rar)
Enhancing Learning Through Technology: Research on Emerging Technologies and Pedagogies.This book deals with how technology can enhance learning. It is a collection of contemporary practices and developmental trends for enhancing learning through technology. Researchers in the field of electronic learning (e-learning) share how new technologies can be applied in and out of the classroom, and how contemporary pedagogical practices should be deployed.
This book presents the most updated technologies that work hand in hand with current pedagogies to help students learn. The contributors are prominent researchers and practitioners in the field. This book attempts to report all emerging models, techniques, and applications related to learning through technology.
Contents: Enhancing Learning Through Innovative Technology: Challenges and Responses (L Webster & D Murphy); Development of an E-Learning System for Automation Technology Education (M Jou); Using YouTube: Strategies for Using New Media in Teaching and Learning (P Duffy); Enhancing Learning Through Innovative Technology: Education in Surf Equipment, Design, Materials and Construction Course (J Audy); A Study on Tag Cloud Quality in E-Learning 2.0 (K O Chow & K S Cheung); Introducing Learning Objects in Teacher Preparation (G Dettori et al.); The Sweet Suite? A Discussion and Review of a Range of Computer-Assisted Language Learning Software (D R MacPherson); Application of EEG in Technology-Enhanced Language Learning Environments (Y Hirata & Y Hirata); A Review of Secondary Schools Use of ICT in Hong Kong (R Fox & T Waugh); Knowledge Management in Distance Education: A Case Study of Curriculum Teaching and Learning (J Je); Reviewing ICT Research Publications in Hong Kong Post-Secondary Education (R Fox & J Pearson); A Theoretical Model for Learning Objects Repositories and a Pilot Implementation of the National Learning Objects Repository for Cyprus (P Pouyioutas et al.); Recognizing Fair Use of Third-Party Digital Content in E-Learning (Y-P Chou & Y Chang); An Intelligent Online Assessment System for Programming Courses (S C Ng et al.); Enhancing Student Learning Throught Technology: A Case Study of Online Game and Webgame Experiment (P Tsang et al.); Learner-Content Interactivity: Instructional Design Strategies for the Development of E-Learning Materials (E Y M Tsang); The Use of Multiple Choice Tests in Law (K Marshall).