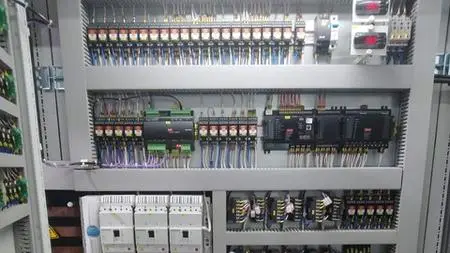 Eplan Electric P8 - Full course from Beginner to Advance
MP4 | Video: h264, 1280x720 | Audio: AAC, 44.1 KHz
Language: English | Size: 3.95 GB | Duration: 6h 12m
Learn how to create electrical circuits and 3D mounting panel
What you'll learn
Students will learn about software Eplan, and how to create projects of Electrical circuits and theirs report.
Project - create, copy, delete, rename, backup, restore.
Pages - type, number, structures Structure in EPLAN - how it works and why we need to understand it.
Page / Window macro - how and why to use it.
The Plot frame, Plot form - how we can make it.
Basic EPLAN circuit functions - insert symbol and create new symbol library, adjust, number.
Reports (Title page, cable overview, terminal diagram, parts reports) Export EPLAN Project to PDF.
Create 3D mounting panel and 3D macro.
How to install Eplan software?
How to numerise conductors?
How to create 3D model views?
You can download books and summaries and practice in your home.
How to create PLC controller macro and device?
How to create revision and project options?
How to create PLC box and adress bits?
Requirements
Every Student will be able to complete this course, and after that they will be able to create their own projects on Advanced level.
Description
Welcome in my complete video course about Eplan Student Version 2.73. I would like to recomended you to download all of PDF lectures and books for learning Eplan software.
I would recomended you to do all quizes. The best way to learn Eplan effectively is to do all of exercises and you have to print PDF of all lectures during course. Course is for students of all level of knowledge Eplan software 2.73. Course is designed for students who wants more. Course have PDF books, PDF lectures, and Quizes.
These features enable students to learn more and faster. Eplan software is for Electrical Engineers, Automation Engineers. In this course i will attach schematic circuits form industry of automatisation for practice.
In this course we will learn how to create plot frames for pages, plot form for cover pages, how to create projects, basic projects and template.
In this course you will learn how to create reports and how to modfy reports and translate on other language. In this course you will learn how to create panel layout in encloshures. In this course you will learn how to optimise project and how to send them by email.
In this course you will learn how you can set you own parameters in project and how to make template for this parameters for future project. In this course you will learn how to set workspace, pages and so on.
Who this course is for:
This course is projected for students from Beginner to some Intermediate level.