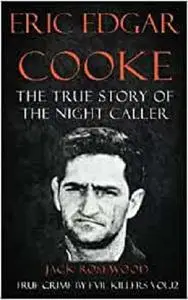 Eric Edgar Cooke: The True Story of The Night Caller: Historical Serial Killers and Murderers (True Crime by Evil Killers) by Jack Rosewood
English | January 21, 2016 | ISBN: 1523766514 | 136 pages | Rar (PDF, AZW3) | 1.51 Mb
The Night Caller, The Nedlands Monster, and Eric Edgar Cooke, are the names used to describe one of the most brutal serial killers in Australian History. Over the space of 5 years, he not only murdered 8 people, he also attempted to murder 14 others, because he just wanted to hurt people. Was he crazy? Nobody was safe from Eric Edgar Cooke. He was an opportunistic killer, selecting victims randomly. Whoever crossed his path during those hot humid nights would fall victim to his variety of killing methods. You were not safe in your homes, or walking down the road at night. This serial killer biography will delve into the life and eventual execution of Eric Edgar Cooke, the last man hanged for murder in Perth, Western Australia. The deeds of Eric Edgar Cooke created fear and horror in the people of Perth. The true accounts from the survivors will show you how they lived through this Australian true crime. If you are a lover of serial killers true crime, you will be enthralled by this investigative book. You will discover how it is that he could get away with his crimes for so long. Why is it that the detectives thought he was just a likeable rogue and petty thief? Discover how one man could change the lives of an entire town and become a bogeyman character for decades after his death. True crime murder doesn't get more complexing or bewildering as the story of Eric Edgar Cooke.