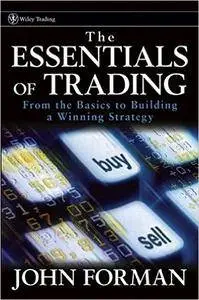 The Essentials of Trading : From the Basics to Building a Winning Strategy
English | PDF | ISBN-10: 047179063X | 2006 | 320 pages | 16 MB
While trading may seem as easy as "buy low and sell high," the reality is far different. Ever-changing market trends can make for turbulent trading sessions, while lack of concentration can lead to costly mistakes.
With nearly twenty years of trading and investing experience in a wide array of markets, author John Forman knows what it takes to succeed in this arena, and with The Essentials of Trading, he shows you how.
Written for those just beginning their journey through the world of trading, this straightforward and accessible guide provides a base of knowledge and understanding from which you can develop trading methods, systems, and techniques that best suit your personality, situation, and financial objectives. Filled with in-depth insight and practical advice, The Essentials of Trading first takes you through the basics of placing a trade and understanding how markets work, and then progresses to the development of trading plans, the implementation of risk management, and the building of trading systems. Along the way, the use of exercises and examples brings these and other topics to life.
By following the proven principles outlined within these pages, you'll learn how to:
Analyze the markets
Execute, manage, and monitor trades
Design, test, and compare trading systems
Determine the best trading arena in which to operate
Take your trading forward, beyond the basics
And much more
Welcome to the best eLearning video (English, German, French, Spanish language) and many more:
LINK
Do not forget to check my blog! Updated regularly! Add in bookmarks my blog :)
PM me if Links not working!
No mirrors pls!