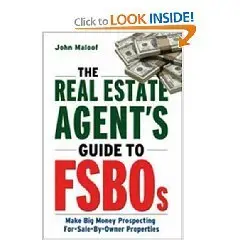 John Maloof, "The Real Estate Agent's Guide to FSBOs: Make Big Money Prospecting For Sale By Owner Properties"
Publisher: AMACOM | 2007 | ISBN 0814400434 | PDF | 240 pages | 1.1 MB
Product Description:
There is perhaps no more challenging job in real state than that of the first-time agent. According to the National Association of Realtors, 86 percent of new real estate agents don't make it past their first year, and most of them give up due to frustration and the overwhelming start-up costs involved in the industry. But there is an untapped resource that will help you take your career to new heights–the For-Sale-By-Owner (FSBO) listing. Many homeowners try to sell their home without an agent, believing that they can find a buyer just as quickly and avoid paying a commission. But often, nothing can be further from the truth. Author John Maloof has built a stellar career by farming FSBOs. At the age of just 23, he made six figures his first year as a real estate agent using his prospecting plan. Now, in The Real Estate Agent's Guide to FSBOs, he shows you how you can do the same. Using these proven techniques, you will learn how to make a killing in the market by: * Finding FSBOs * Approaching prospects * Making a listing presentation that will convince even the most reluctant homeowner * Handling rejections * Formulating a marketing plan * Servicing listings * Building a referral base * Staging open houses * Closing Complete with Internet resources and a sample resume and log sheet, this is the one book that will show you how to make the most of this undiscovered, but profitable secret weapon.
Summary: Great Reading
Rating: 4
This is a great book, but you have to keep in mind the do not call laws.
Summary: A wealth of information and motivation
Rating: 5
When I purchased this book I was not aware that John Maloof was a top agent for Century 21. I too am working for Century 21 in the State of Connecticut. This book has reitterated the training I've received from my coach and has given me the best ideas to take the next step in focusing on FSBO's! John gives you basicly all the tools you need to excel in your career as a 'FSBO' real estate agent…the websites he guides you to has been a huge help in finding the information needed for many different areas. This book is an easy read and an interesting one that makes you want to finish it quickly and apply your new techniques. This is definitley a book I will re-read and refer to many times. Thank you!
Summary: The Real Estate Agent's Guide to FSBOs
Rating: 5
The Real Estate Agent's Guide to FSBOs is by far, one of the absolute best books you could purchase as a new agent. The author give you practical, usable advise without crossing over that "legal" line in the business. He even helps you with the dreaded "cold calls" to FSBOs! This book exceeded my expectations.
Summary: A guide that WILL generate more listings
Rating: 5
A tool that will grow your business. It is as simple as that. As a seasoned mortgage professional, my day to day business centers around top producing agents. I recently bought 10 copies of THE REAL ESTATE AGENT'S GUIDE TO FSBO'S. The books have been given to my top agents as well as agents who have just began. The feedback I have personally recieved from the book has been overwhelming POSITVE. ALL of them have been able to generate more listings by utilizing the techniques in this book. An easy decision for under twenty dollars!
Summary: Very useful book
Rating: 5
I found this book to be very easy to follow and quite useful. It uses down-to-earth language and doesn't read like a textbook. The author doesn't assume you're an expert, which I found to be reassuring. Useful information even if you employ other sales techniques.