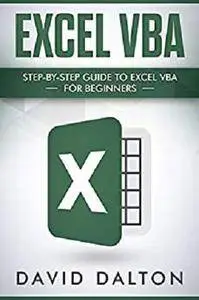 Excel VBA: Step-by-Step Guide To Excel VBA For Beginners by David Dalton
English | August 29, 2018 | ISBN: 1719947759 | 116 pages | AZW3 | 0.46 MB
Microsoft Excel VBA is a worthy program that not only enhances your experience with Excel but also enhances your programming skills.
Excel VBA saves time and money and makes data representation and intricate calculations simple and automated. Clearly, the unsung hero of Microsoft Office Excel, VBA, provides a host of solutions, which enable tasks to be completed without tediousness.
The following text delves into five chapters of different aspects ofthe subject (illustrations included). These include IDE, loops, and clusters, Excel objects, and their operations, just to name a few. The language is also simplified so even a novice will be able to grasp the programming terms. CHAPTER 1 PROGRAMMING BASICS
HOW TO INSTALL AND ENABLE VBA
VARIABLES
VBA FUNCTIONS
INPUT-OUTPUT: GETTING THE VARIABLES TO AND FROM THE VBA
VBA SUB-PROCEDURES
SUMMONING SUBROUTINES
DIFFERENCES BETWEEN SUB-PROCEDURES AND FUNCTIONS
SEQUENTIAL ACCESS FILES
CHAPTER 2 VBA INTEGRATED DEVELOPMENT ENVIRONMENT
GETTING INTO IDE
PROGRAMMING PARTS IN EXCEL
HELP PROCEDURES WITH VBA
CHAPTER 3 STARTING PROGRAMS WITH VBA
VARIABLES, CONSTANTS AND DATA TYPES
DECLARATION OF VARIABLES
OBJECT AND STANDARD MODULES
VARIABLE SCOPE
DATA TYPES
STRING DATA
NUMERICAL DATA MODES
YIELD AND INPUT WITH VBA
YIELDS WITH THE MSGBOX
CHAPTER 4 LOOPS AND GROUPS
APPROVAL OF DATA
APPROVAL WITH THE BOX WORK
VALIDATION THROUGH THE SPREADSHEET CELL
ONE DIMENSIONAL EXHIBIT
DYNAMIC CLUSTERS
MULTI-DIMENSIONAL ARRAYS
CHAPTER 5 EXCEL OBJECTS
COLLECTION OBJECTS
WORKSHEET OBJECT
RANGE OBJECT
WORKING WITH OBJECTS
LOOPING THROUGH A RANGE
UTILIZATION OF THE CELL PROPERTY
OFFSET PROPERTY
BASIC DEBUGGING OF DOCUMENT INPUT AND OUTPUT
Don't miss out on this new step by step guide to Excel VBA.