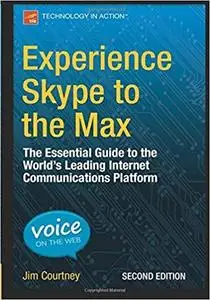 Experience Skype to the Max: The Essential Guide to the World's Leading Internet Communications Platform (2nd Edition) by James Courtney
English | 2015 | ISBN: 1484206576 | 264 Pages | PDF | 8.5 MB
Experience Skype to the Max shows you how to make the most of Skype's full range of features on any device. Discover tips and tricks for saving time, saving money, and fostering better communication at work or in your personal projects.
Go beyond simple voice calling and discover Skype as a multimedia cross-platform collaboration tool, wherever you are in the world. Learn how to connect to Skype from your devices whether in the home office, on the road, roaming on your mobile or over Wi-Fi. Discover the best ways to call or message landlines and mobile phones at minimum cost, and how to manage your account and payments, depending on your needs.
As a regular Skype user, you'll also benefit from insider tips on choosing hardware and peripherals, integrating your Skype usage with other platforms such as Office and Outlook.com, and preparing for the next developments in internet-based communications.
As work and home lives become increasingly intertwined, this book is your essential guide to building and sustaining your important relationships on one reliable platform.