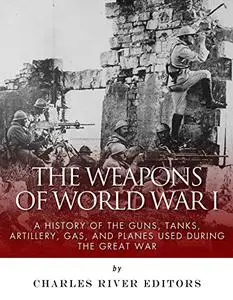 The Weapons of World War I: A History of the Guns, Tanks, Artillery, Gas, and Planes Used during the Great War by Charles River Editors
English | January 29, 2015 | ISBN: 1507765835 | 76 pages | EPUB | 3.83 Mb
*Includes pictures *Profiles weapons such as superartillery, poison gas, rifles, grenades, flamethrowers, planes, and more. *Includes a bibliography for further reading *Includes a table of contents "God would never be cruel enough to create a cyclone as terrible as that Argonne battle. Only man would ever think of doing an awful thing like that. It looked like 'the abomination of desolation' must look like. And all through the long night those big guns flashed and growled just like the lightning and the thunder when it storms in the mountains at home…And it all made me think of the Bible and the story of the Anti-Christ and Armageddon. And I'm telling you the little log cabin in Wolf Valley in old Tennessee seemed a long long way off." - Alvin C. York World War I, also known in its time as the "Great War" or the "War to End all Wars", was an unprecedented holocaust in terms of its sheer scale. Fought by men who hailed from all corners of the globe, it saw millions of soldiers do battle in brutal assaults of attrition which dragged on for months with little to no respite. Tens of millions of artillery shells and untold hundreds of millions of rifle and machine gun bullets were fired in a conflict that demonstrated man's capacity to kill each other on a heretofore unprecedented scale, and as always, such a war brought about technological innovation at a rate that made the boom of the Industrial Revolution seem stagnant. The arms race before the war and the attempt to break the deadlock of the Western and Eastern Fronts by any means possible changed the face of battle in ways that would have previously been deemed unthinkable. Before 1914, flying machines were objects of public curiosity; the first flights of any account on rotor aircraft had been made less than 5 years before and were considered to be the province of daredevils and lunatics. By 1918, all the great powers were fielding squadrons of fighting aircraft armed with machine-guns and bombs, to say nothing of light reconnaissance planes. Tanks, a common feature on the battlefield by 1918, had not previously existed outside of the realm of science fiction stories written by authors like H.G. Wells. Machine guns had gone from being heavy, cumbersome pieces with elaborate water-cooling systems to single-man-portable, magazine-fed affairs like the Chauchat, the Lewis Gun and the M1918 BAR. To these grim innovations were added flamethrowers, hand grenades, zeppelins, observation balloons, poison gas, and other improvements or inventions that revolutionized the face of warfare. These technological developments led to an imbalance. Before the introduction of the man-portable light machine gun (which took place in the second half of the war), not to mention tanks (which also joined the fight late in the game), defensive firepower vastly outweighed offensive capability. Massed batteries of artillery, emplaced heavy machine guns, barbed wire entanglements, and bewildering fortifications meant that ground could not be taken except at incredible cost. This led to the (somewhat unjustified) criticism famously leveled at the generals of World War I that their soldiers were "lions led by donkeys". Certainly, every army that fought in the Great War had its share of officers, at all levels of command, who were incompetent, unsuitable, foolish, or just plain stupid, but there were plenty of seasoned professionals who understood their job and did it well. The main problem facing commanders in the war was that there was such a bewildering array of new armaments, with such vast destructive potential, that previous military doctrines were virtually useless. The Weapons of World War I analyzes the technological advancements in weaponry that produced the deadliest conflict in history up to that time. Along with pictures of important people, places, and events, you will learn about the weapons of World War I like never before, in no time at all.
Feel Free to contact me for book requests, informations or feedbacks.
Without You And Your Support We Can't Continue
Thanks For Buying Premium From My Links For Support