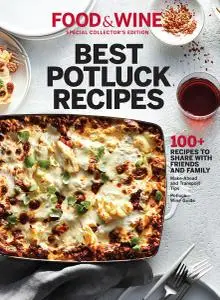 FOOD & WINE Best Potluck Recipes: 100+ Recipes to Share with Family and Friends by The Editors of Food & Wine
English | August 3rd, 2018 | ISBN: 0848759826 | 96 Pages | EPUB | 21.51 MB
Bring your best to the next potluck with more than 100 exciting contemporary recipes chosen for this Special Collector's Edition from Food & Wine. These recipes feature fresh ingredients and bold flavors in crowd-pleasing fare, including Rosemary Chicken with Corn and Sausage Fricassee, Ratatouille Tart, and Grilled Skirt Steak with Green Sriracha, plus dozens more, like innovative cocktails and punches.
Exciting upgrades to potluck classics such as pasta salad, hummus, and devil's food cake let cooks turn old favorites into new traditions. With full-color photos plus step-by-step directions for every recipe, along with extras like a wine guide and potluck prep tips, Best Potluck Recipes will make you the most popular guest at any occasion. Please note that this product is an authorized edition published by Meredith Corporation and sold by Amazon. This edition is printed using a high quality matte interior paper and printed on demand for immediate fulfillment.