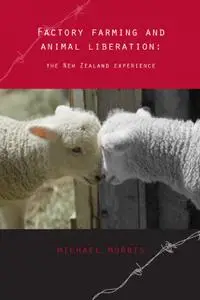 Factory Farming and Animal Liberation: The New Zealand Experience by Michael Morris
English | June 13th, 2020 | ISBN: 046345846X | 181 pages | EPUB | 1.17 MB
This book is about the rights of animals, specifically those farmed for the table. But it is also about human rights; namely our rights in a democracy to have our voices listened to and acted on by our democratically elected leaders.
The book starts with an introduction to animal welfare in New Zealand and other countries. It summarises the science around animal welfare and the difficult question about how we can know what an animal is feeling. The next chapter touches on questions of value; of what is important to animals, and our ethical obligations around the ways animals should be treated. Public perceptions towards animal wellbeing and public demands for better welfare conditions are described and discussed. The effectiveness of the political and legal system in translating these demands into action is analysed.
The book then spells out the shocking way factory farmed hens, broiler chickens and pigs are treated in a supposedly enlightened western country, and compares this with animal welfare regulation and practice in other states. It describes the author's personal experience of the endless lengths industry and government will go to deny, intimidate and bluster in their efforts to hide the truth, and profit as much as possible from animal misery.
Though much of the material on animal treatment is bleak, the book also aims to give a message of hope, by describing ways that angry, organised and active people have made a difference for animals. It spells out ways that readers can encourage change for the better, both through their own buying habits and through influencing their communities, neighbours and the wider society. The final chapters includes guidelines on ways to tell truth to power and be effective, and they outline the political and legislative changes required for a more compassionate society.
This book is about the ethics and politics of animal welfare in one small Western country. However, issues around exploitation of the vulnerable, suppression of truth and the power of determined individuals to change are universal. I am confident that the lessons from this book can be applied to many situations world wide.
The author has a PhD in zoology, and originally conducted ecological research on insects. His research interests have since shifted from straight science to the interface between science, ethics and society. He has been a scientific researcher, a university teacher and a government policy adviser.
Enjoy
My Blog.
No any convert or low quality!