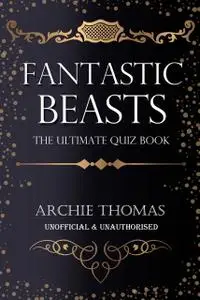 «Fantastic Beasts – The Ultimate Quiz Book» by Archie Thomas
English | EPUB | 1.3 MB
How much do you know about the fantastic beasts that live within the world of Harry Potter? Is your knowledge of the film second-to-none? Are you ready to test your own knowledge and that of your friends?
Fantastic Beasts: The Ultimate Quiz Book contains 400 questions (and answers!) covering a wide range of subjects. From simple things that even a no-maj would likely know all the way up to complex subjects that would test even Newt Scamander himself, this is the perfect book for any Harry Potter fan. With sections on the characters, the beasts, the events in the film and much more, this is an excellent addition to any bookshelf.